The Wesleyan period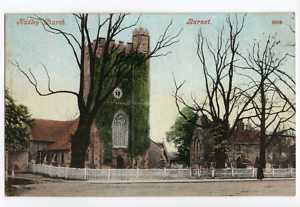 Methodists began worshipping in Barnet around 1760. The Shewell family who lived at the Beacon House, next to St Mary's Church in Monken Hadley, were Methodists and great friends of John Wesley. They allowed the Methodists to worship in a cottage at Hadley which they gave to the Methodist Society in 1770. The original deed remains in the possession of the local church.
John Wesley would have been a frequent visitor to Barnet and Hadley but as his diary is missing until 1783 there is no record of his visits until his entry in his published Journal in November/December 1769:
Thur. 30. I preached at Wandsworth. For many years, the people here were the most dead but are now the most active of any about London. Friday, December the 1st, I preached at Barnet, which was last year what Wandsworth is now.
In November 1771 John came to Barnet to take the funeral of John Shewell (1705-71). He wrote:
I went over to Barnet and paid my last debt to that excellent man, Mr John Shewell, by preaching his funeral sermon from, 'It is appointed unto men once to die.' All the time that I knew him, he was a pattern of seriousness, piety, patience, and beneficience.
Some years later in October 1786 John raced across country to get to Elizabeth Shewell's funeral. He wrote:
We did not reach Hoddesdon till after sunset. I then took a post-chaise, for the Dilgence went the other road. But as we had a rough by-road across the country without either moon or stars, we could not reach the chapel till half an hour after seven. About half the congregation were gone away, an officious man having informed them I would not come. With the other half, which pretty well filled the house, we had a solemn opportunity.
He went on to say:
So I have lived to see the large family at Hadley, two brothers and three sisters, all removed. So does 'the earth drop its inhabitants, as the tree its leaves'.
The family tomb of the Shewells is in the churchyard next to Beacon House. In her will Elizabeth Shewell left £350 for the benefit of the Methodists of Barnet. The interest on this bequest is still paid to the circuit.
Back in 1772 John Wesley recorded in his Journal:
I went to Barnet and found a large congregation, though it was a rainy and dark evening.
Five years later, in December 1777, he wrote:
I visited the chief societies in Bedfordshire and Huntingdonshire, and returned by Hertford, where (for once) I saw a quiet and serious congregation. We had a larger congregation at Barnet in the evening than ever, and a greater number of communicants. Will this poor, barren wilderness at length blossom and bud as the rose?
The Journal was written for publication (indeed some parts were prepared for publication while he was staying in Hadley) but his diaries were not. These exist only from 1783 but from then on there are frequent detailed references to his stays, usually on his way back from a trip to the north.
On Friday, 30th May 1783 he records that he stopped for lunch in Barnet and shared it with his brother Charles. It is likely that they would have met at the Red Lion at the top of Barnet Hill. The Wesleys were Tories and the Red Lion was the Tory hostelry in the town. It was later pulled down and rebuilt. This was at a difficult time in the relationship between the brothers. We can only imagine what they had to say to each other.
A typical diary entry, for Friday, 7th January 1785 reads:
3 Chaise. 5 Hadley; tea, religious talk. 6 Luke 20;34! Communion; supper, religious talk; prayer. 9.30 Ill. Saturday: 4.30 Prayed; Magazine; tea. 6 Chaise.
So on this overnight stay Wesley managed two sessions of religious conversation. He preached on the text: 'And Jesus answering said unto them, The children of this world marry, and are given in marriage:' (No wonder there was an exclamation mark!) He celebrated Holy Communion before eating his evening meal, but he went to bed at 9.30pm feeling unwell. This did not stop him getting up to pray at 4.30am and writing for the Arminian Magazine before having tea and leaving by chaise at 6am. He was aged 81 at that time.
John Leifchild, who was born in Barnet in 1780 and went on to become a famous Congregationalist minister and a founder of the Evangelical Alliance, was the son of John Leifchild, a cooper and a member of the local Wesleyan society. He remembered hearing John Wesley preach in Barnet and later recalled that Wesley 'drove to our father's house, and when the door of the chaise was opened, he came out in his canonicals. Childlike, I ran to lay hold of him, but my father pulled me back; upon which extending his hand, he said: "Suffer little children to come unto me, and forbid them not, for of such is the Kingdom of Heaven."'
In October 1786 Wesley recorded in his Journal, I preached at Barnet, probably for the last time but in November 1787, aged 84, he wrote I set out early, and about noon preached at Barnet to a small, serious congregation. His text on this occasion was Hebrews 2:1 ('Therefore we ought to give the more earnest heed to the things which we have heard, lest at any time we should let them slip.') In February 1788 he visited a surviving member of the Shewell family and in November 1788 he passed through Barnet twice. These were his last recorded visits.
John Wesley's name lives on in Wesley Hall, the Methodist community centre in Barnet, and in the parish church of St John the Baptist, Chipping Barnet. This has been substantially rebuilt since Wesley's day but there is an excellent wooden carving of him in the pulpit installed in the late 19th century, alongside other great preachers.
A minor Wesley association with the area is that Samuel Wesley, the composer son of Charles Wesley, lived in Ridge, a small village close to Barnet. Samuel, who had converted to Roman Catholicism, lived in an 'irregular relationship' there with Charlotte Martin. Expecting their first child, they finally married and their son Charles was born and baptised at St Margaret's, Ridge on 20th October 1793. He went on to become an Anglican priest and royal chaplain. His half-brother, not born locally, was Samuel Sebastian Wesley, the great musician.
After the Wesleys
1811

A Barnet Wesleyan Methodist circuit was created with Thomas Padman as superintendent and Moses Dunn as 'missionary'. In 1812 there was only one minister, William Theobald, and in 1813 the circuit ceased to exist. It was 1875 before a local, New Barnet, circuit was created again.

1838

A purpose-built Wesleyan chapel was built overlooking Hadley Common on the site of the property given to the Methodist Society in 1770. It was extended in 1876 and still stands. It was sold to the Baptists in 1890.

1846
During the mid 19th century the Wesleyan Methodist Magazine carried obituaries of three holy Methodist women from Barnet Mrs Singer who died in 1846, Ann Hale in 1855 and Catherine Allen in 1861.
1857

Methodist work began in New Barnet under the influence of Mark Elvidge, a Yorkshire farmer who had come to live there. A school-chapel was opened in 1874

1880

The very fine New Barnet Wesleyan Methodist Church was opened with the Revd Dr Morley Punshon as preacher. It was demolished in 1963 because of structural problems

1892

The new High Barnet Methodist Church was opened in Barnet High Street by the Revd Dr Thomas Bowman Stephenson, founder of the National Children's Home. It was demolished in the late 1980s to make way for 'The Spires' shopping centre. The 'spires' remain on the High Street from the former church.

1893

William Jackson built a Gospel Mission Hall in Jackson Road, East Barnet. It is now a private house.

1915

The first Wesleyan Methodist Chapel was opened in East Barnet, "a good iron hut" given by Miss Wyburn of Hadley Manor. It was built on land given by William Jackson, local builder and landlord of the Prince of Wales public house.

1930

A new Wesleyan Methodist Church was opened in East Barnet adjoining the 1915 building. It was opened by the Hon Mrs J Arthur Rank, the wife of the Methodist businessman and movie mogul. It is still in use as the church hall.

1967

Brookside Methodist Church was opened in East Barnet as a result of the amalgamation of New Barnet and East Barnet Methodist Churches

1987

Following the demolition of the Methodist Church in Barnet High Street, the Methodist congregation there entered into a sharing agreement with the congregation of St. John the Baptist church, Chipping Barnet. This continued until 2006.

1990
Wesley Hall was built at the corner of Stapylton Road and Carnarvon Road in High Barnet. It is a community centre run by the Methodist Church. Informal worship, Celebration, takes place there every Sunday.
2005

The then Rector of East Barnet, Richard Watson, and the Methodist minister, Colin Smith, were recognised as associate ministers of each others churches.

2006

The first stage of the redevelopment of Brookside Methodist Church in East Barnet was complete at the beginning of the year. This included a new entrance facing the village war memorial. Later in the year High Barnet and Brookside Methodist joined to form Barnet Brookside Methodist Church, a two-centre church. At the same time a new Barnet & Queensbury circuit was created within the new London District.

2007

The Rt Revd Christopher Foster, then Bishop of Hertford and now Bishop of Portsmouth presided at Holy Communion at Brookside on Palm Sunday. The first time a bishop of the Church of England had done so.

2008
The East Barnet Anglican-Methodist Partnership was inaugurated between East Barnet Parish Church, St Mary the Virgin, and Barnet Brookside Methodist Church. The Rt Revd Christopher Herbert, Bishop of St Albans, preached at the morning service at Brookside and the Revd Dr Stuart Jordan, Methodist District Chair, led the act of commitment.
In the evening the Revd Dr Leslie Griffiths. Lord Griffiths preached at St. Mary's Church.

2009

A legal sharing agreement was entered into between St. Mary's Church and Brookside for the sharing of each other's premises.

2010

Celebration of the 250th anniversary of the beginnings of Methodism in Barnet.

2011

For the first time the Rabbi of Barnet United Synagogue joined the representatives of St Mary's, East Barnet Baptist Church and Brookside at the war memorial (which is outside the Methodist Church) to jointly lead the Remembrance Sunday ceremonies.

2012

Completion of the second stage of the upgrading of the church premises at Brookside and the renewal of the mission of Wesley Hall.

2013

Starting to plan for the upgrade of the kitchen and hall spaces over the next 12 months, and upgrades taking place to Wesley Hall

2014

Work carried out on upgrading the hall and kitchen at Brookside.
The Methodist Church claims and cherishes its place in the Holy Catholic Church which is the Body of Christ. It rejoices in the inheritance of the apostolic faith and loyally accepts the fundamental principles of the historic creeds and of the Protestant Reformation. – The Methodist Deed of Union
To know more about Methodist history click on http://www.methodist.org.uk/who-we-are/history